NorthStar Albums
Our fantastic catalogue of albums includes a broad selection of musical styles to cater for everyone's musical taste.
Please use the Album Style links on the left to browse through the catalogue. You can also download pdf versions of our current main catalogue Elements (Size: 1.31 MB) and our Ambiente (Size: 500 KB) series.

Over 80% of our albums are currently available from the iTunes Music Store.
Albums can be purchased from iTunes when you see the iTunes logo (right) on an album page.
Sampler CDs
NorthStar Music has two sampler CDs which are a wonderful introduction to our two lifestyle music ranges.
Each CD can be purchased as a digital download from the iTunes website.
For more information please click here.
Listening to tracks
We have provided 1 minute audio examples of tracks in 128kbps mp3 format using the superb SoundCloud player.
Click on the track titles to hear an mp3 extract of that track.


Latest Release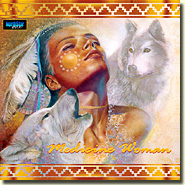 Emily Shreve
A deeply soulful and fascinating tribute to the spirit of the Native American Indian culture.
Emily Shreve not only captures the spirit of the Native American people but also uses their distinct voices and tribal chants to bring positivity, joy and enlightenment.