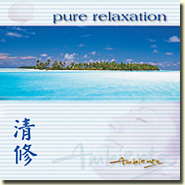 Helen Rhodes
AMB0218
CD £4.95
Buy this CD here from New World Music
MP3 Downloads from
Album Description
There is no question that we live in a society where being busy is not just seen as preferable, but positively desirable.

It is clear that our adrenaline-fuelled lifestyle is shortening the time we have available for ourselves.

It is obvious that we need to slow down and learn to live at peace with ourselves.

In order to do this we need to inject calm and tranquility into our life.

Escape the pressures and stress of everyday life with the therapeutic & serene sounds of 'Pure Relaxation'.

The style is of gentle atmospheric orchestration cradling concert and ethnic flutes, acoustic guitar, bells and piano.
CD Track List
All tracks arranged performed & produced by Helen Rhodes
Albums from Helen Rhodes