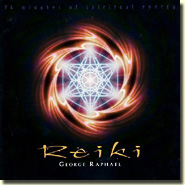 George Raphael
NSMCD 271
CD £4.95
Buy this CD here from New World Music
MP3 Downloads from
Album Description
Reiki – literally meaning Universal Life Energy – is an ancient healing technique rediscovered in Japan in the 19th century.
It is a powerful system of healing that has attracted people from all over the world to its teachings.
In addition to improving the body's energy systems, Reiki is also a great help for the inner self – promoting wellbeing and balance in our spiritual lives.
CD Track List
Written, performed & produced by George Raphael
Albums from George Raphael