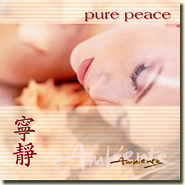 Katie Hope
AMB0219
CD £4.95
Buy this CD here from New World Music
MP3 Downloads from
Album Description
Finding tranquility in our daily lives is perhaps the most important thing we can do for ourselves to help reduce stress and renew our sense of balance and love of life.

The best way to do this is to take a little time each day where we allow ourselves time for relaxation whilst listening to music especially written for creating an atmosphere of pure calm and peace.

The gentle, soothing melodies of 'Pure Peace' will allow you to relax and find harmony in your daily life.

A truly unplugged acoustic album performed on concert flute and guitar.
CD Track List
All tracks written performed & produced by Katie Hope
Albums from Katie Hope