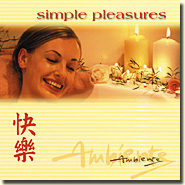 John Hartley
AMB0217
CD £4.95
Buy this CD here from New World Music
MP3 Downloads from
Album Description
You have had a hard, tiring and stressful day and every inch of your body is aching.
Your legs can barely hold you up and all you want is one simple pleasure... to relax and unwind by soaking in a warm scented bath surrounded by the soft, comforting light of candles.
Let the heady mist of aromatherapy oils clear your mind & body of the day's stress.
Let the soothing melodies of 'Simple Pleasures' wash through your senses and create a feeling of total serenity... of pure wellbeing.
The album features acoustic guitar, concert flute, piano and gentle melodic orchestration.
CD Track List
All tracks written by John Hartley
Flute - Rachel Gurney
Guitar - Clive John
Recorded & mixed by Lauren Turner
Albums from John Hartley