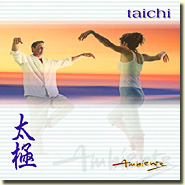 Katie Hope
AMB0212
CD Temporarily Out Of Stock
MP3 Downloads are available from
Album Description
Tai Chi Chuan is a gentle but powerful series of of graceful movements which restore and promote the circulation of chi throughout the body.
In this album, written by Katie Hope, you will find the perfect musical mood to compliment the slow and deliberate rhythm of movement associated with Tai Chi.
The wonderful orchestrations containing delicate flavours of the East merge with flutes, bells and guitars to gently support the inner psyche and lead the body's internal rhythm through all the Tai Chi sequences.
CD Track List
All tracks written performed & produced by Katie Hope
Albums from Katie Hope