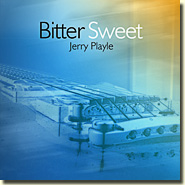 Jerry Playle
NSMCD 320
CD £4.95
Buy this CD here from New World Music
MP3 Downloads from
Album Description
Warm soulful melodies that reflect places and emotion, experiences and images, funny and sad, dark and light; the story of each melody is given life through the voice of the guitar.

"...there is steel beneath the velvet exterior, and Playle proves to be a substantial soloist. He boasts an amalgam of Carlton, Holdsworth and others and has a technical polish still rare on the domestic scene. The same can be said of the arrangements, all by the leader.."

~ Jazz Journal International
"... smooth, lyrical and accessible..."
~ Blue Note Club
Aged 18, Jerry Playle wrote and recorded 5 songs for a demo to be broadcast on BBC Radio. Playing guitars, bass and keyboards, it was also his first effort at arranging and producing. He owed the studio, and paid off the recording time by working sessions for the Italian owner.
Located in Dulwich, London, U.K., the studio had built a fine reputation for reggae, funk and soul, and Jerry regularly found himself to be the only white musician on the sessions, a situation repeated many times later when touring internationally with chart topping black American 70's and 80's funk, r'n'b and soul heavyweights.
Jerry's interest in jazz and blues was ignited by Jeff Beck's classic 'Blow By Blow' album, and the instrumental 'J Song/Mercedes' on that early demo directly reflects this happy discovery. Opening the doors wider to the works of Weather Report, Miles Davis, Chick Corea and Herbie Hancock, the influences became embedded into Jerry's playing, writing and production style, culminating in a project working with top U.K. jazz label '33' Records, and touring with his quartet in the U.K.
Jerry's work with extraordinary singer songwriter and producer Keith James also exposed him to the influences of John Martin, Nick Drake, and Joni Mitchell, and areas of 'Bitter Sweet' reflect the heady 'band in a room' recording ideals of yesteryear, where mics were left open and ambient, and should a bug fly past the mic, then so be it that it became a part of the album too!
Acclaimed singer Sarah Randle kindly appears on 'Bitter Sweet' courtesy of JazzeeBlue Records. Acknowledged by Paul McCartney, Chris Rea, Joan Armatrading, legendary producer Gus Dudgeon and many others, Sarah is currently recording tracks for a new album written and produced by Jerry Playle.
Jerry has enjoyed working with a rich diversity of artists:
Edwin Starr
George McCrae
Ginni
Heatwave
Ian Anderson
Jodie Brooke Wilson
Keith James
Odyssey
Rose Royce
The Real Thing
CD Track List
Produced by Jerry Playle & Keith James
except tracks 2, 7 & 8 produced by
Jerry Playle & Mike Stevens,
and track 4 produced by
Jerry Playle & Danny Prendergast.
Mastered at EMI/Abbey Road
except 'Journey Home' - mastered at D.O.O.
Albums from Jerry Playle