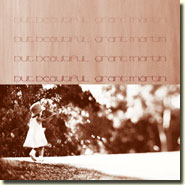 Grant Martin
NSMCD 319
CD £4.95
Buy this CD here from New World Music
MP3 Downloads from
Album Description
Grant Martin: "I have been playing the piano since the age of eight when I first began lessons at school following the Guildhall and then the Associated Board exam syllabus.
I attended Kingsmead Secondary school in Enfield where I completed my grade 8 in year 12. I am currently at Hertfordshire University where I am studying music technology and composition.
As much as I like to play classical music, at about 12 years old, probably due to my father, I developed a great interest for jazz, which I love to play regularly.
I have played in many jazz groups and I currently play in the Hertfordshire Youth Jazz Ensemble.
At present I live at home in Waltham Cross with my parents, brother and my all black cat whose name is Dizzy.
In my spare time I like to hang out with my friends or can usually be found listening to music, most notably jazz, but I also enjoy listening to other music genres such as rock, pop, and country.
I enjoy reading, generally crime/thriller books, and have a great love for film; I can often be found at my local cinema.
And last but not least, I do of course spend a lot of time composing on my own or with my writing partner Thomas."
Thomas Giron Towers: "My name is Thomas and I am twenty one years old. I have lived in Hertfordshire all my life with my mum, dad, older sister and younger brother.
For as long as I can remember I have always enjoyed performing and at the age of eight I joined a Drama school where I still act, sing and perform on a regular basis.
During my time with the Agency I have made many television appearances which range from walk on parts to being cast as a main character.
I have participated in numerous Theatre productions and performed along with a show choir at Theatre Royal, Dury Lane, London.
At school I studied A Level Media and Psychology and also gained a grade 7 in Guildhall.
I have participated in many team building courses and have supported many GCSE and A Level students with their Media coursework.
In my spare time I enjoy writing scripts and hope to have one produced one day!
I enjoy a wide variety of film and music and currently write reviews on a website for a games company.
Grant and I have worked together for over five years, so much of my time is spent writing and singing and putting our songs together in the recording studio with Grant.
However, I love to socialise with my friends and enjoy playing football once a week at my local sports centre."
Composed, performed & produced by Grant Martin
* Composed, performed & produced by
Thomas Giron Towers & Grant Martin
* Guest vocals by Thomas Giron Towers
Recorded by Ollie Nicholls @ Doz Studios, Fordcombe, Kent
Mastering by John Hartley @ Musiklab, Worcester
Design by Jinx Graphics
CD Track List
Written, performed & produced by Grant Martin
Albums from Grant Martin