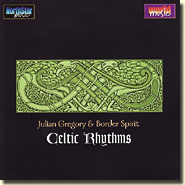 Julian Gregory & Border Spirit
NSMCD 176
CD £4.95
Buy this CD here from New World Music
MP3 Downloads from
Album Description
Sparkling traditional Celtic melodies in every style make this wonderful recording an essential item in any Celtic collection.
Played by Julian Gregory and Border Spirit the album is alive with tradition and sheer individual brilliance.
Melodies featuring the sweetly haunting sound of the Pipes merge into lilting Irish airs on Harp, Fiddle and Whistle before sweeping into irresistible toetapping jigs and reels.
CD Track List
Performed & arranged by Julian Gregory & Border Spirit
Produced by David Piggott
Albums from Julian Gregory
Albums from Border Spirit