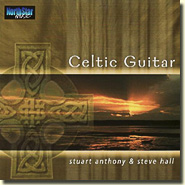 Stuart Anthony & Steve Hall
NSMCD 207
CD £4.95
Buy this CD here from New World Music
MP3 Downloads from
Album Description
There are few things more pleasant than the pure sound of an acoustic guitar playing the wonderful Celtic melodies history has passed down to us.
In the background the sounds of the forest gently whisper their approval as the guitar sings its age old melodies of love and legend.
Images of wild heather-clad mountains and log fires burning brightly are rekindled by the evocative sounds and themes of the Celts.
A romantic celebration of poignant melodies, which in recent times have again become popular throughout the world, will make you rediscover the serene beauty of authentic Celtic music.
CD Track List
Written, arranged & performed by
Stuart Anthony & Steve Hall
Instruments used
Guitar, Violin, Whistle, Button Accordion, Percussion
Albums from Stuart Anthony
Albums from Steve Hall