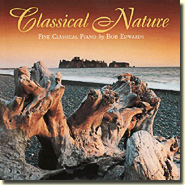 Bob Edwards
NSMCD 190
CD £4.95
Buy this CD here from New World Music
MP3 Downloads from
Album Description
The soothing sounds of nature are accentuated by the timeless works of the master composers to provide this tranquil and uplifting experience.
Visit a secluded stream as the sun breaks through the canopy of leaves and songbird melodies fill the air.
This adventure in nature and music features some of the most relaxing classical compositions ever written, combined with the magnificent symphony of nature herself.
CD Track List
Performed by Bob Edwards
Albums from Bob Edwards