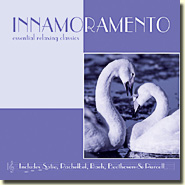 Various Artists
NSMCD 312
CD £4.95
Buy this CD here from New World Music
MP3 Downloads from
Album Description
This album represents the very best of classical music played by world class musicians.
All time favourites rest easily alongside supreme original compositions including Lament and One Moment From A Time Remembered by Ivor Hodgson.
Includes Pachelbel's Canon in D major, Beethoven's Moonlight Sonata and Satie's Gymnopédie.
The NorthStar Ensemble consists of 8 strings, oboe, cor anglais and harp, and is conducted by Ivor Hodgson and Grahame Maclean.
Without doubt this album will bring peace and calm whenever it is played.
CD Track List
Music arranged by Ivor Hodgson
Recorded in the BBC Studios Manchester England
Conducted by Grahame Maclean & Ivor Hodgson
Albums from Various Artists