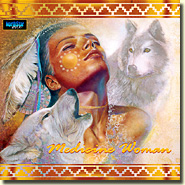 Emily Shreve
NSMCD 328
CD £4.95
Buy this CD here from New World Music
MP3 Downloads from
Album Description
A deeply soulful and fascinating tribute to the spirit of the Native American Indian culture.
Beautiful, haunting flute melodies at times uplifting, inspiring and magical, at times reflective, evocative and dreamy reflect the power, charm and traditions of the original people of North America.
Emily Shreve not only captures the spirit of the Native American people but also uses their distinct voices and tribal chants to bring positivity, joy and enlightenment.
Featuring redwood flutes, acoustic guitar, native percussion, ambient orchestral instruments and natural sounds, this album reflects in sound what lies at the heart and history of Native America.
CD Track List
All tracks written performed & produced by Emily Shreve
Albums from Emily Shreve