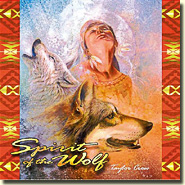 Taylor Crow
NSMCD 194
CD Temporarily Out Of Stock
MP3 Downloads are available from
Album Description
A wonderful album of expansive and evocative themes inspired by the special relationship between the Native American Indian and the wolf.
Respected and revered by the native tribes, the wolf is believed to be an intelligent spirit, and an encounter with one is always seen as a good omen.
This album is perfect for relaxation and meditation.
CD Track List
All tracks written, performed & produced by Taylor Crow
Albums from Taylor Crow