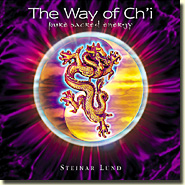 Steinar Lund
NSMCD 285
CD £4.95
Buy this CD here from New World Music
MP3 Downloads from
Album Description
The Tao is the unknowable, both everything and nothing, beyond opposites.
It is the "way" of living in harmony with each moment as it unfolds.
Inspirational and alive with the musical influences of the mystic east The Way of Ch'i offers exotic melodies and gentle eastern percussion in a fusion of beautiful uplifting Oriental melodies.
Serene, spiritual and calming this album is the ideal partner for meditation, healing and inner peace.
"Deep and broad ambient fields of Sibelius-like space are conjured up by the sympathetic strings pads providing context for Chinese Koto or flute to lead you onto the cosmic range in such a way that your ch'i is stirred and cleansed at the same time."
- Barefoot Doctor
CD Track List
All tracks written performed & produced by Steinar Lund
Albums from Steinar Lund