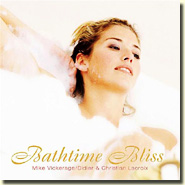 Mike Vickerage, Christian & Didier Lacroix
NSMCD 287
CD Version Not Available
MP3 Downloads from
Album Description
At the end of a tiring and stressful day there is no better way to relax than soaking in a warm scented bath.
Bathtime Bliss is designed to take you on a journey that will wash away your cares and leave you feeling calm and refreshed.
The first part of the album, Body & Mind Relaxation, contains soothing melodies that will gently wash through your senses and create a feeling of total serenity.
The second part, The Journey Within, gently raises the spirits with uplifting melodies that will inspire and refresh the mind.
CD Track List
All tracks written performed by Mike Vickerage, Christian & Didier Lacroix
Albums from George Raphael