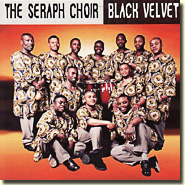 The Seraph Choir
NSMCD 221
CD £4.95
Buy this CD here from New World Music
MP3 Downloads from
Album Description
The Seraph Choir have been together since 1992. All it's members are from the central African countries of Angola and The Democratic Republic of Congo (formerly known as Zaire).
The choir represents a variety of churches from their home countries, however they are all united in their Christian faith and love of music and singing.
Before coming to England all the members belonged to similar choirs in Africa and hence sing in a variety of languages and styles.
Their singing style is particularly distinctive because of the intricate harmonies and the mixture of folk, traditional and religious songs.
CD Track List
The Seraph Choir
Albums from The Seraph Choir