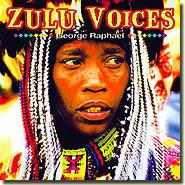 George Raphael
NSMCD 199
CD £4.95
Buy this CD here from New World Music
MP3 Downloads from
Album Description
Recorded live in Africa in the villages of the Kwa-Zulu Natal region, this remarkable album of Zulu tribal songs, dances and chants is perhaps one of the most exciting ethnic fusion recordings ever produced.
All the songs are in the authentic language of the Zulu homelands, recorded in the villages of the Natal region and sung by members of the Zulu nation.
A memorable musical journey, celebrating the joyous traditions, exuberance and day to day life of the African continent.
CD Track List
Additional music written by George Raphael
Produced by Michael Vickerage
Authentic Zulu recordings by Trevor Barrett
Albums from George Raphael