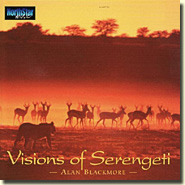 Alan Blackmore
NSMCD 168
CD £4.95
Buy this CD here from New World Music
MP3 Downloads from
Album Description
Authentic African rhythms and voices merge together with natural sounds in a celebration of pure ethnic joy and passion.
This memorable album, recorded live in Africa, provides the gateway to a vibrant and exciting musical journey.
About Alan Blackmore
In addition to being a multi talented musician and percussionist, Alan is a true world traveller. Each year he spends up to six months travelling Europe - in particular the eastern block countries - and Africa working with and recording musician friends.
In 2000 he and a colleague also sailed the Atlantic in a small yacht.
CD Track List
Recorded in Africa 1997
Produced by Alan Blackmore
Albums from Alan Blackmore