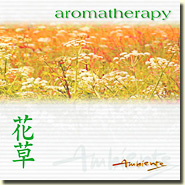 Dan Oliver
AMB0203
CD £4.95
Buy this CD here from New World Music
MP3 Downloads from
Album Description
Aromatherapy is the study and practise that uses essential oils and fragrances that evoke positive sensory feeling and emotions to relax and heal the mind, body and spirit.
Music is an essential ingredient that can make the entire Aromatherapy process a blissful experience.
Gentle, uplifting chord progressions are designed to relax and soothe, making the album perfect for every Aromatherapy or deep relaxation session.
CD Track List
All tracks written performed & produced by Dan Oliver
Albums from Dan Oliver